"Talent develops in quiet places, character in the full current of human life."  ~ Goethe
Goethe may not have faced situations of murderous conflict but he certainly was on to something there. So much of what we learn is blooded in the heat of 'battle'.   I don't have to go to Afghanistan to fight murderous terrorists; in fact, I have never been to any battleground of lethal consequences. My battle in a business context is in meetings, negotiations, documents, virtual workshops, and debates- a sharp word takes the place of the lancet, a poor rating the equivalent of a bullet. I doff my imaginary hat to the brave men and women who serve this country in hostile situations. While my workplace can frequently seem stressful, I can only imagine what stress can seem like, in the face of enemy fire.
Chronic stress and negativity can be corrosive- warriors come back home with damaged limbs, scars or PTSD. In the case of the modern workplace, stress can be harder to measure. In a hyperconnected world, it can be difficult to wipe away the stains of skirmishes past- the WHO reports chronic stress can cause burnout .  I found myself in a situation recently where stress levels were high, tempers short and tolerance levels wafting off like steam off a cup of freshly-brewed espresso. In the short term, the edginess of a combative situation can actually help sharpen focus and improve engagement levels. As weeks roll into months and months become quarters, the adversarial nature of interactions can start to create a toxic environment. Here is my personal framework to guide the attention, as the situation starts to trigger more negative than positive- I like to call it LSG (Learn-Serve-Grow).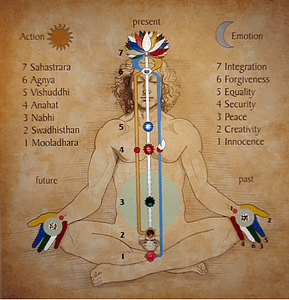 Learn
We all have the Da Vinci in us. Sometimes the grime of the everyday hustle can strip away the inherent satisfaction we can derive from learning and creating. Here is where the deceptively simple foot soak can help. Meditation is for the spirit but the physical body needs a lift from time to time- let's use the tools we have, to preserve our intrinsic wellness.
Serve
The greatest leaders serve their followers. Emotions are cleansed and enhanced when we feel that our efforts, our service is part of a greater purpose that ties stakeholders together. A workplace is not just a check- professionals of all levels are united by a common sense of purpose- the acerbity or aggression of a negative environment can be neutralized when we remind ourselves our intent to serve our constituents, families, and country in the most pristine sense of the word. Our service is greater than any one person or team or project- it is an eternal pursuit of perfection.
Grow
We accept, embrace and enjoy. In the context of Sahaja meditation, growth is a spontaneous function of the central channel (refer diagram) and occurs when we make peace with ourselves and the world around us. When the environment gets negative, I like to remind myself that my goal is to Learn, Serve and Grow- every day. Let's explore together on the Sahaja Online virtual session June 14th- see you there!